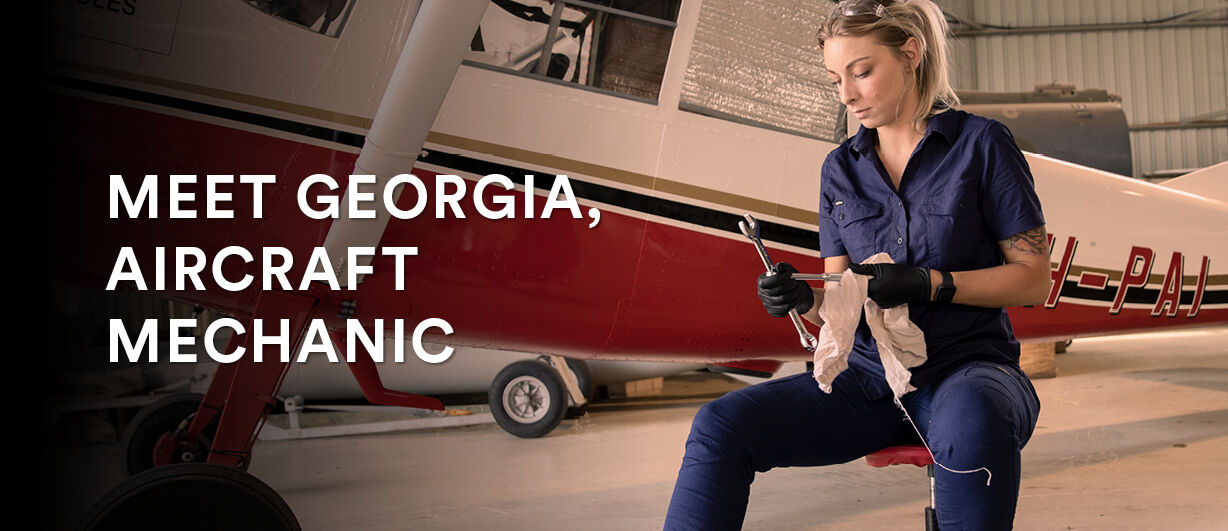 REAL PEOPLE, REAL TRADES, REAL STORIES.
Our new series features 'real people, real trades, real stories' that align with what KingGee is about. We learn about their craft, their journey, and what's next for them. Kicking things off, we've got Georgia, an aircraft mechanic at Scone airport in New South Wales' Hunter Valley region.
Watch the mini film below.
Aircraft Mechanic Georgia's Story.
"I always wanted to be a pilot but had never planned on doing what I'm currently doing now. Working for Pays Air Service in the beautiful Hunter Valley I have been in the process of completing my apprenticeship working on an amazing collection of warbirds and firefighting aircrafts. I believe doing the apprenticeship is the best way. Being in the workshop full time and then having those few weeks in the classroom is the best way to gain knowledge and apply it quickly in the real world. Apart from some rare quiet days, you're never bored. Rebuilding and fixing machines like what we work on is the most satisfying thing in the world.
I love fixing things and I love flying so it was just a matter of combining the two! I've been flying for about 2 years or so now but will finally be getting my private pilot's licence this year.

My favourite part about flying would have to be the freedom that comes with it. Take yourself back to when you finally got your car license, well, take that feeling, multiply it by 100 and add incredible views. It's just the ultimate euphoria, you must try it for yourself.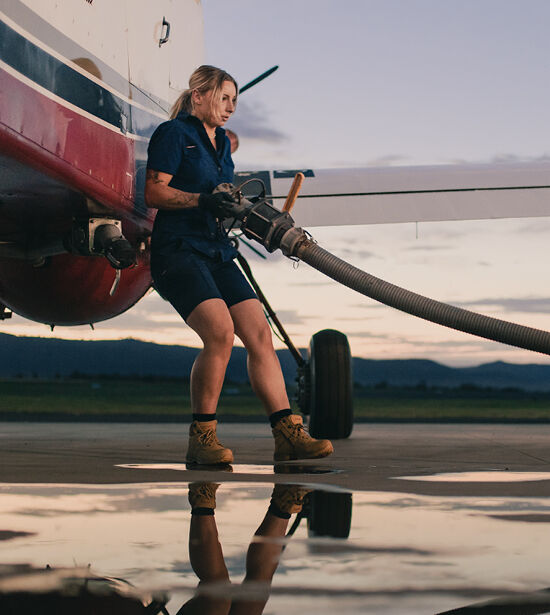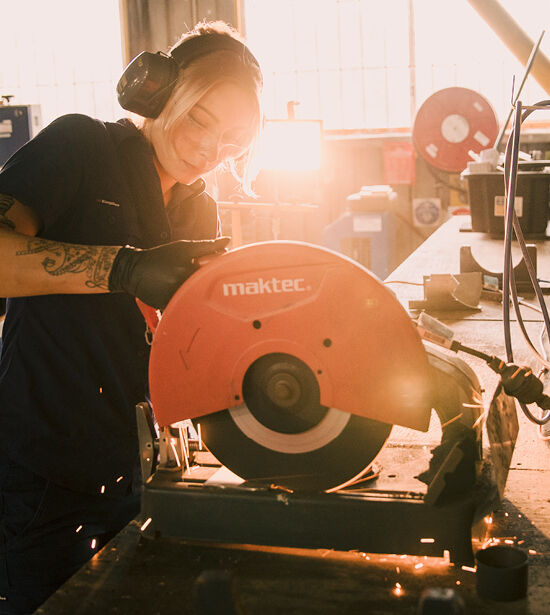 Flying pushes your limits in different ways which I think is a good thing. Our firefighting aircraft can speak for themselves, but as for aviation in general, it's involved in just about everything we as human beings need to function. The fresh produce you eat was more than likely looked after by air while it was in a field, the clothes on your back were probably brought to you by air, need to get to a certain hospital in a hurry? There is an aircraft there ready to get you from A to B. The list goes on, but, without aviation - a lot changes.
The advice I would give someone who wanted to join the industry would be to hold your head high and go for it. The really hard work has been done for us by other amazing women too.

"To me KingGee stands for hard work and community"
I'm so excited to partner up with KingGee, it's a very reputable brand with a lot of love for Aussie workers. I have tried just about everything clothing wise and KingGee has proved its worth. The products have been more than capable of withstanding what I put them through at work. I've been trying different gear for a while but I found that KingGee ticked more of the boxes for me. I know the clothing is going to last, it looks good and I don't have to compromise on quality. I'm climbing up and down planes and getting covered in all sorts of chemicals all day, so I absolutely need to be able to move properly without compromising durability.
It's cool to be able to support and represent an Australian Brand that is doing so well and just continues to move forward in really great ways. To me KingGee stands for hard work and community.
Aussies do it just as well as anyone else and we need to keep supporting amazing brands that are home grown!"